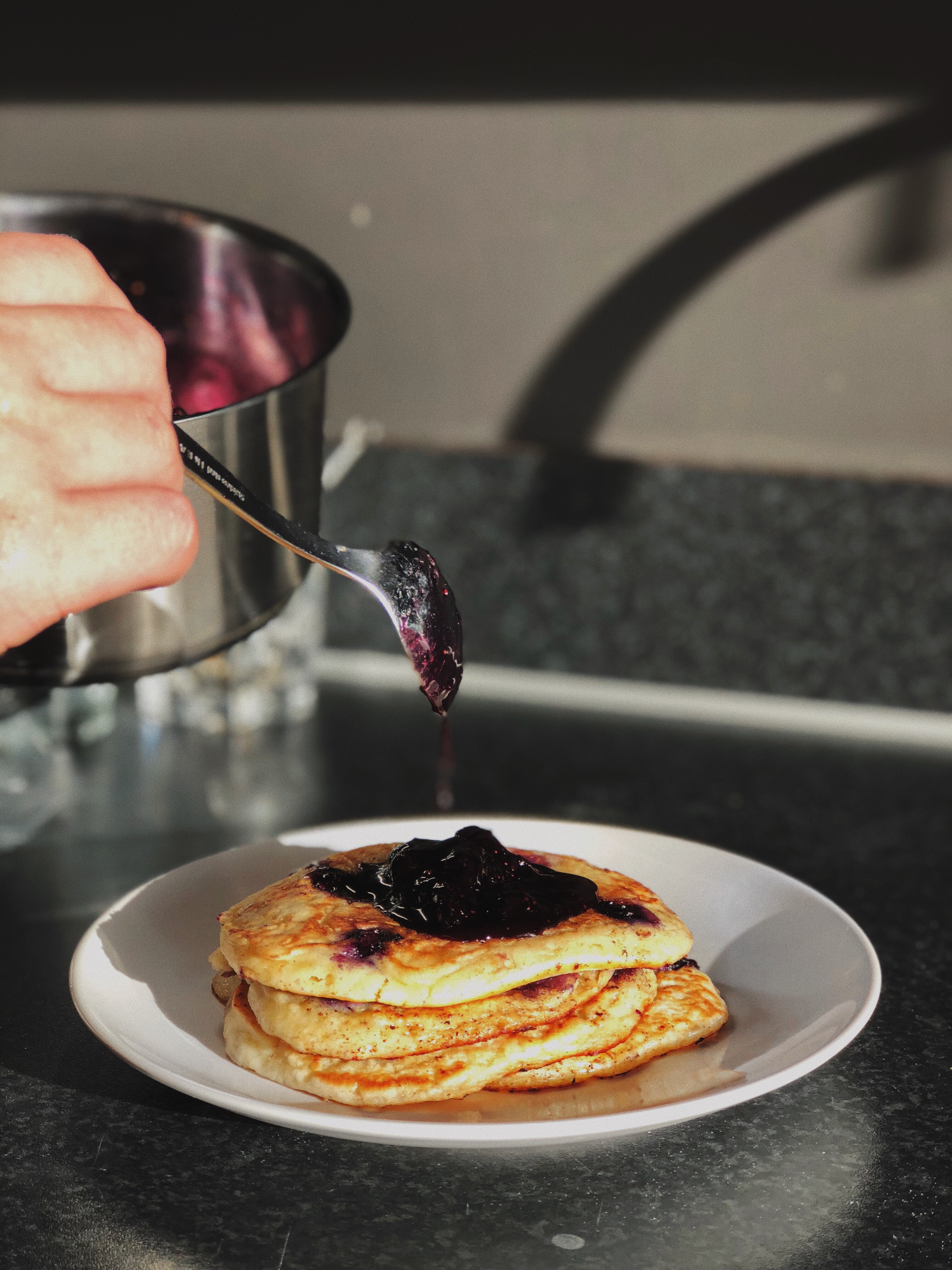 Breakfast is probably my favourite meal of the day. Then I'm not talking some jam on a piece of toast, I'm talking rich crispy fluffy buttermilk pancakes. Buttermilk pancakes are my absolute favourite. Us Dutch often eat pancakes for dinner, but they're the flat kind. While those are delicious in their own way, they just don't work as well for breakfast as the typical American buttermilk pancakes do. This weekend I really pulled out all the stops and got to cooking up a breakfast fit for a king. The result: perfectly delicious blueberry buttermilk pancakes topped with blueberry maple syrup. Try saying that ten times fast!
Blueberry Buttermilk Pancakes with Blueberry Maple Syrup
The perfect thing about these pancakes is that they're actually quite easy to make. It's just a matter of mixing wet and dry ingredients and merging them all together to make a thick lumpy batter. And the syrup tastes like pure bliss and is also quite easy to make. I put the recipe for these bad boys at the bottom of this post if you want to try and make them yourself. I really recommend you do, because they are so so good.
Next time I will try and make them with raspberries as well, as those are my favourite fruit. If you're not a fan of berries in your pancakes they are delicious without any fruit added in as well.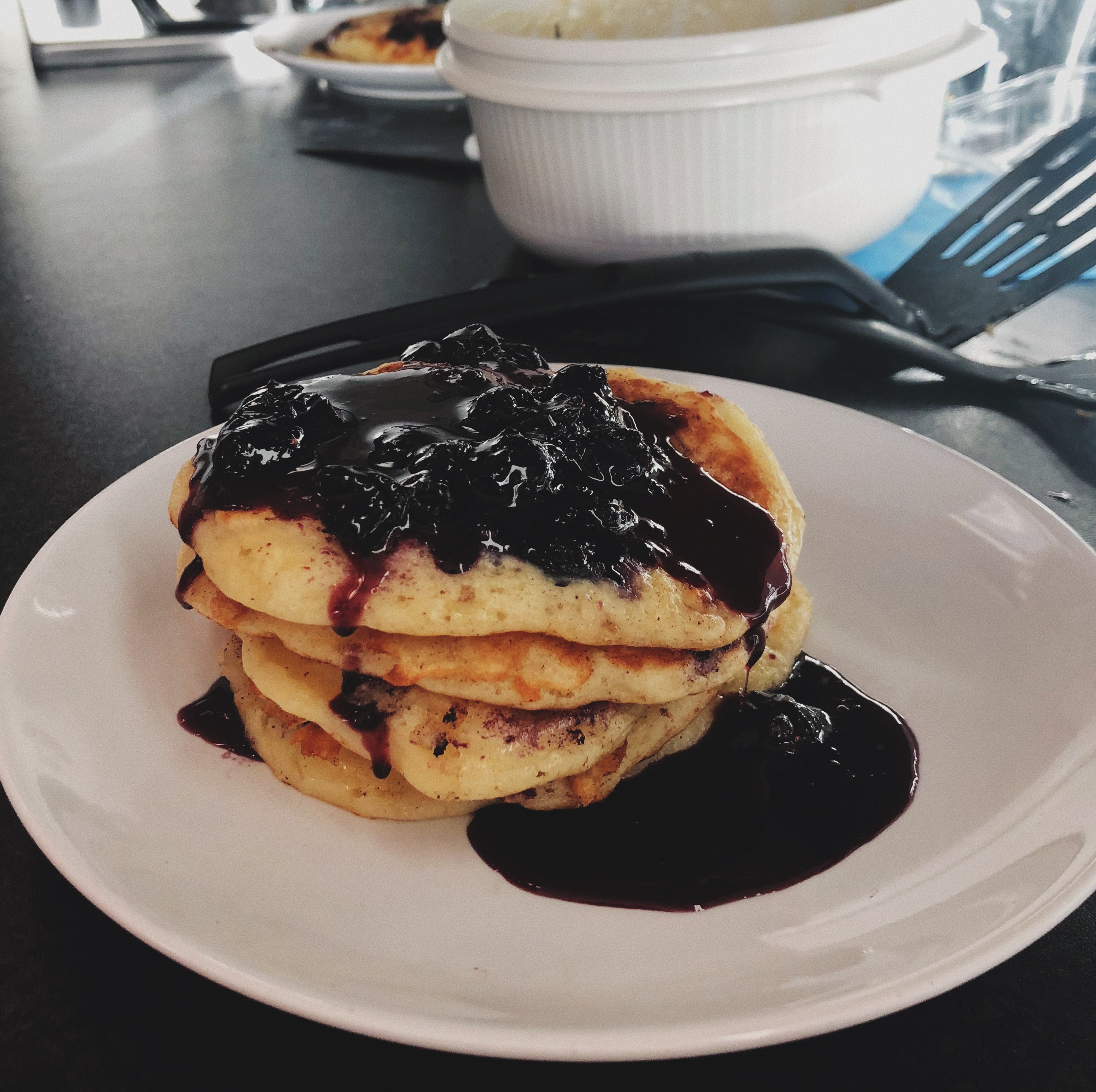 [one_half]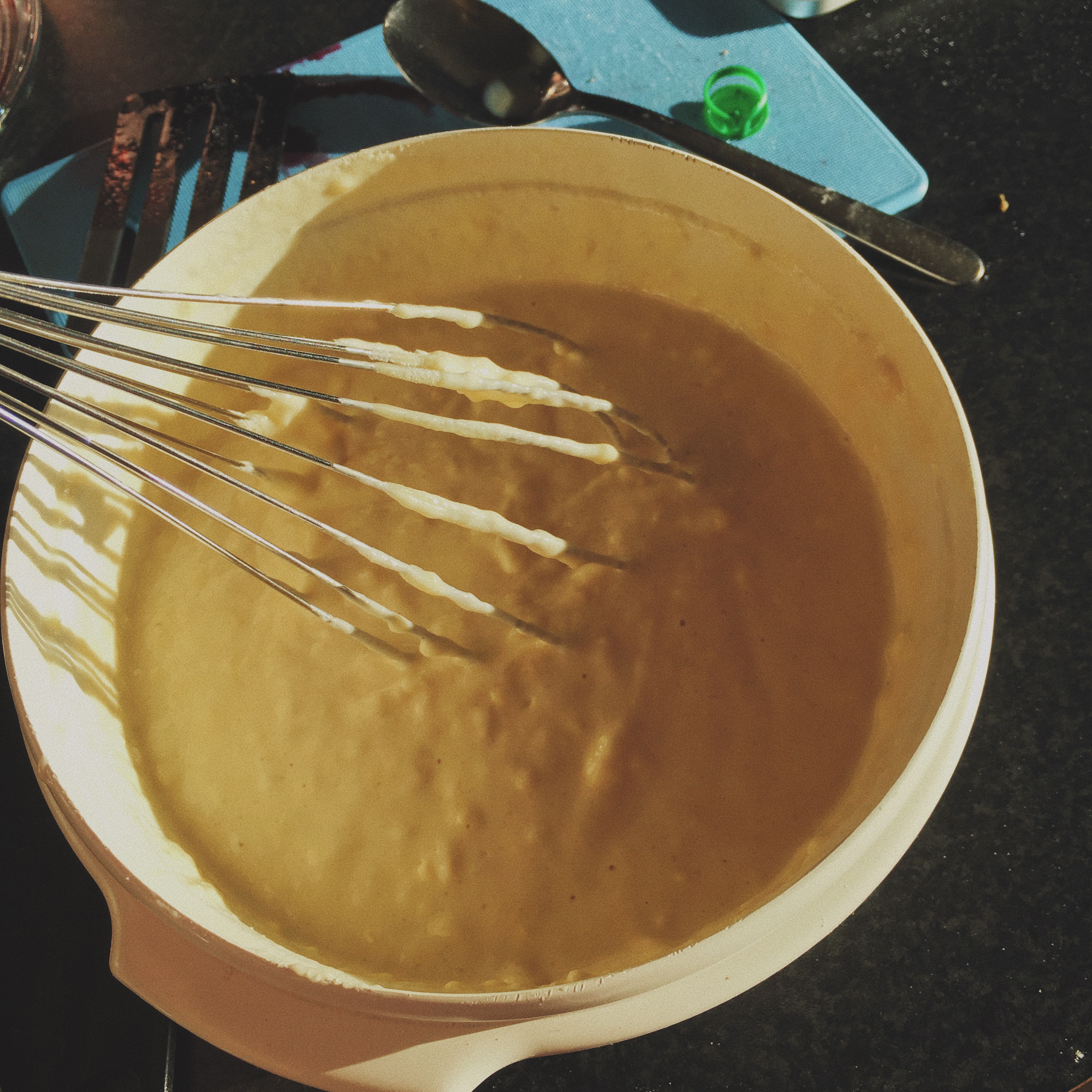 [/one_half] [one_half_last]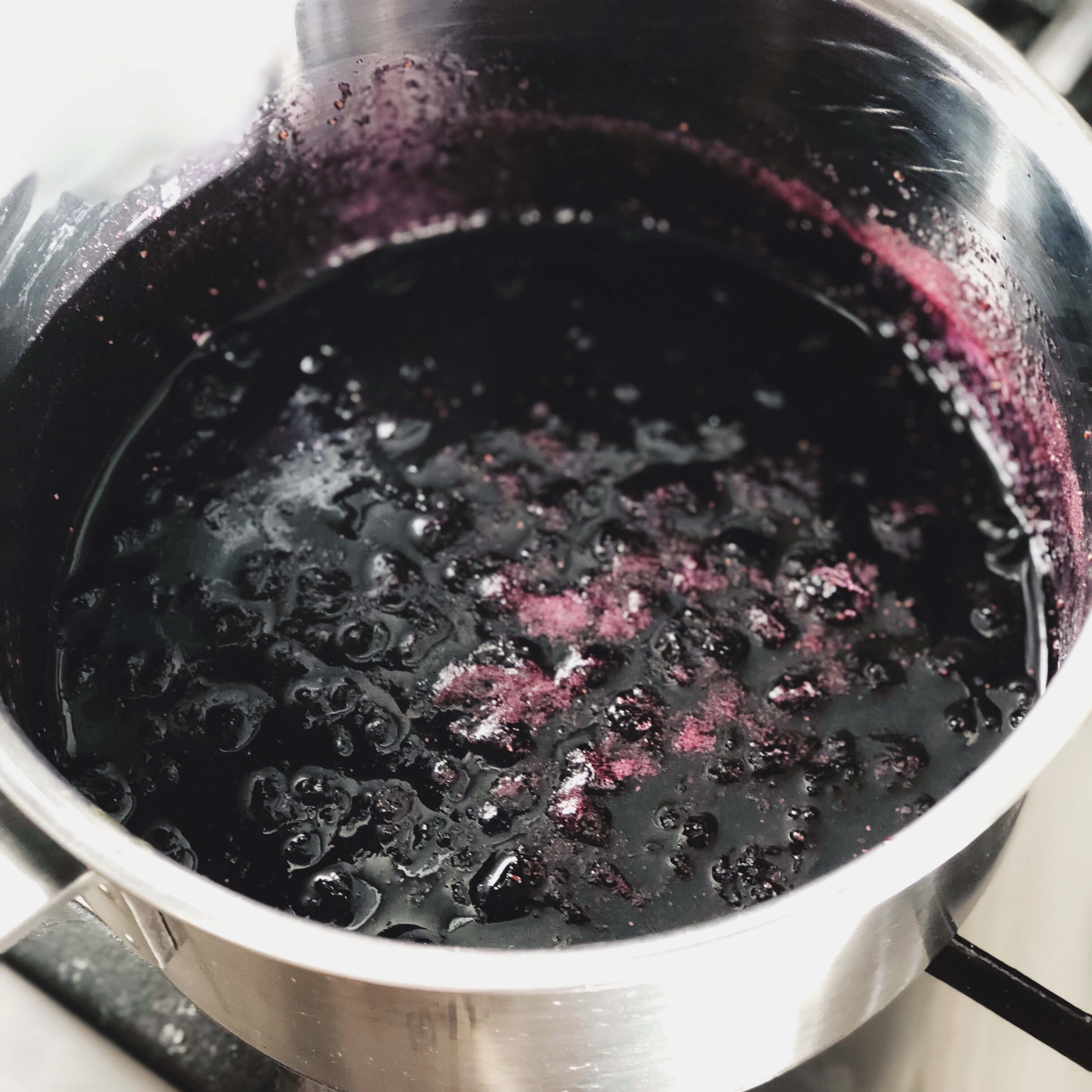 [/one_half_last]
They get delicious crispy on the outside while still maintaing a gorgeous fluffy inside. Plus there is just something magical about a stack of pancakes with rich colourful syrup drooping over it, they're just gorgeous to look at and even more of pleasure to eat.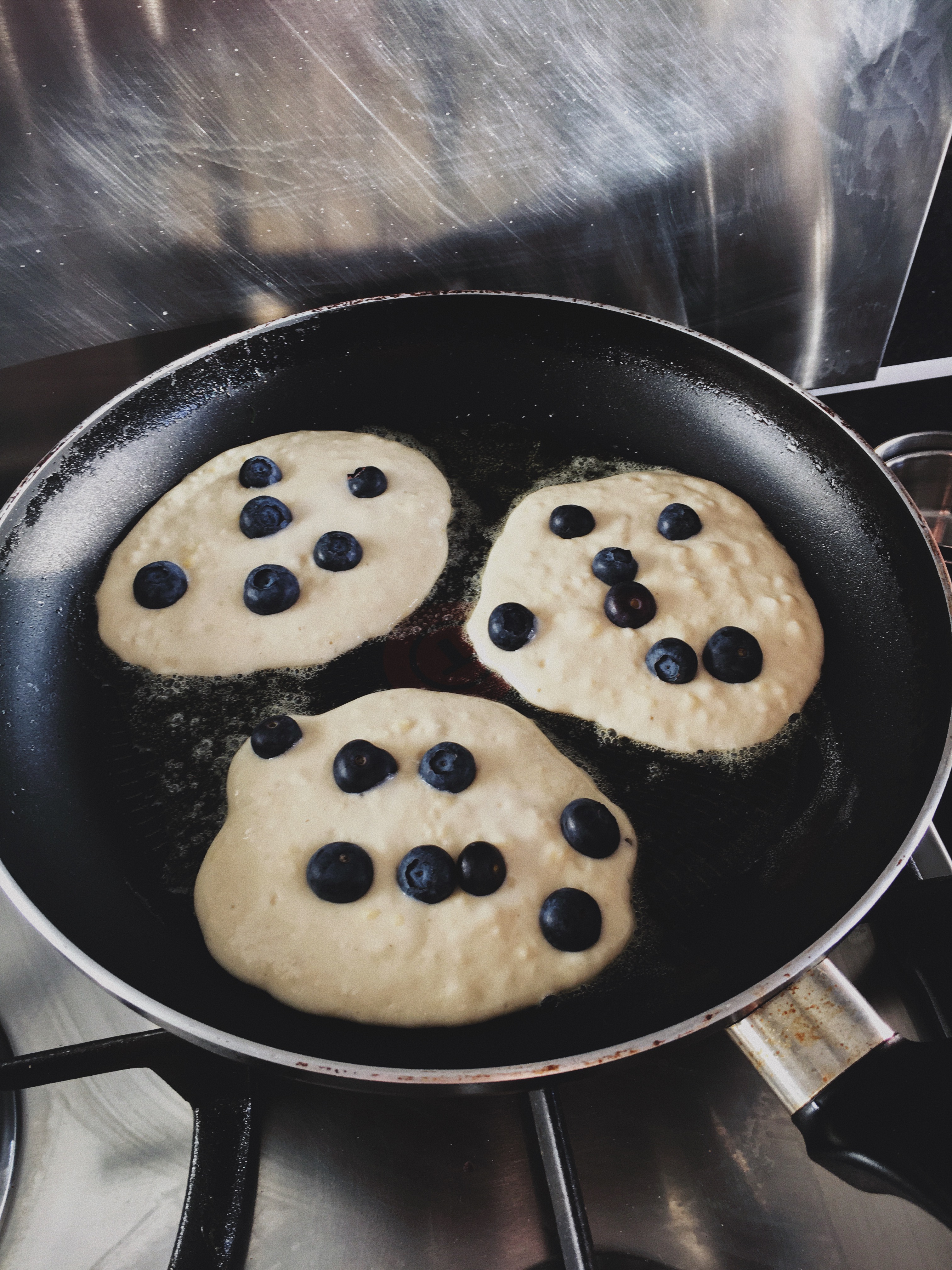 Don't they just look amazing? I can cook up to three at a time, sometimes even working two pans at the same time to double the output and get to eating faster. If you want you can set your oven to a low temperature to keep your stack of pancakes warm. I know that I really need to control myself when making these that I don't start tucking into them before they are all ready.
What is your favourite breakfast recipe? Have you ever made buttermilk pancakes?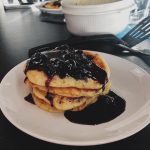 Blueberry Buttermilk Pancakes with Blueberry Syrup
Delicious and rich pancakes with a gorgeous homemade syrup that is surprisingly easy to make!
Ingredients
For the Blueberry Maple Syrup
1

cup

Maple syrup

1 - 1/2

cups

fresh blueberries

1

tbsp

lemon juice
For the Blueberry Buttermilk Pancakes
2

cups

all purpose flour, spooned into measuring cup and leveled

2

tbsp

sugar

1

tbsp

baking powder

1/2

tsp

baking soda

1

tsp

salt (kosher)

2

large eggs

2-1/4

cups

buttermilk

4

tbsp

melted butter

1

cup

fresh blueberries

Vegetable oil, for cooking the pancakes in
Instructions
For the Blueberry Maple Syrup
You start by making the blueberry syrup, as this needs time to cool. Combine the maple syrup and a cup of the fresh blueberries into a pot. Add the lemon juice and bring to a boil over high heat. Reduce the heat to medium and let boil for about ten minutes. Stir occasionally. Set aside after boiling and let cool. Before serving stir in the remaining half cup of blueberries.
For the Blueberry Buttermilk Pancakes
Combine the dry ingredients in a bowl and mix well.

Beat the eggs in a medium bowl. Whisk in the buttermilk and add the melted butter.

Pour the buttermilk mixture in with the dry ingredients and mixed until combined. No need to beat this into submission, it's supposed to be thick and a little lumpy.

Heat a non-stick pan over medium heat. Coat completely in vegetable oil. Drop a dollop of batter (about a 1/4 cup worth) into a pan and then drop on some blueberries. Cook until the first side is golden brown. Flip, be careful not to splash batter everywhere. Then cook the other side, this happens quite quickly, so keep your eye on them. When done cooking, serve with the lukewarm syrup. And enjoy!