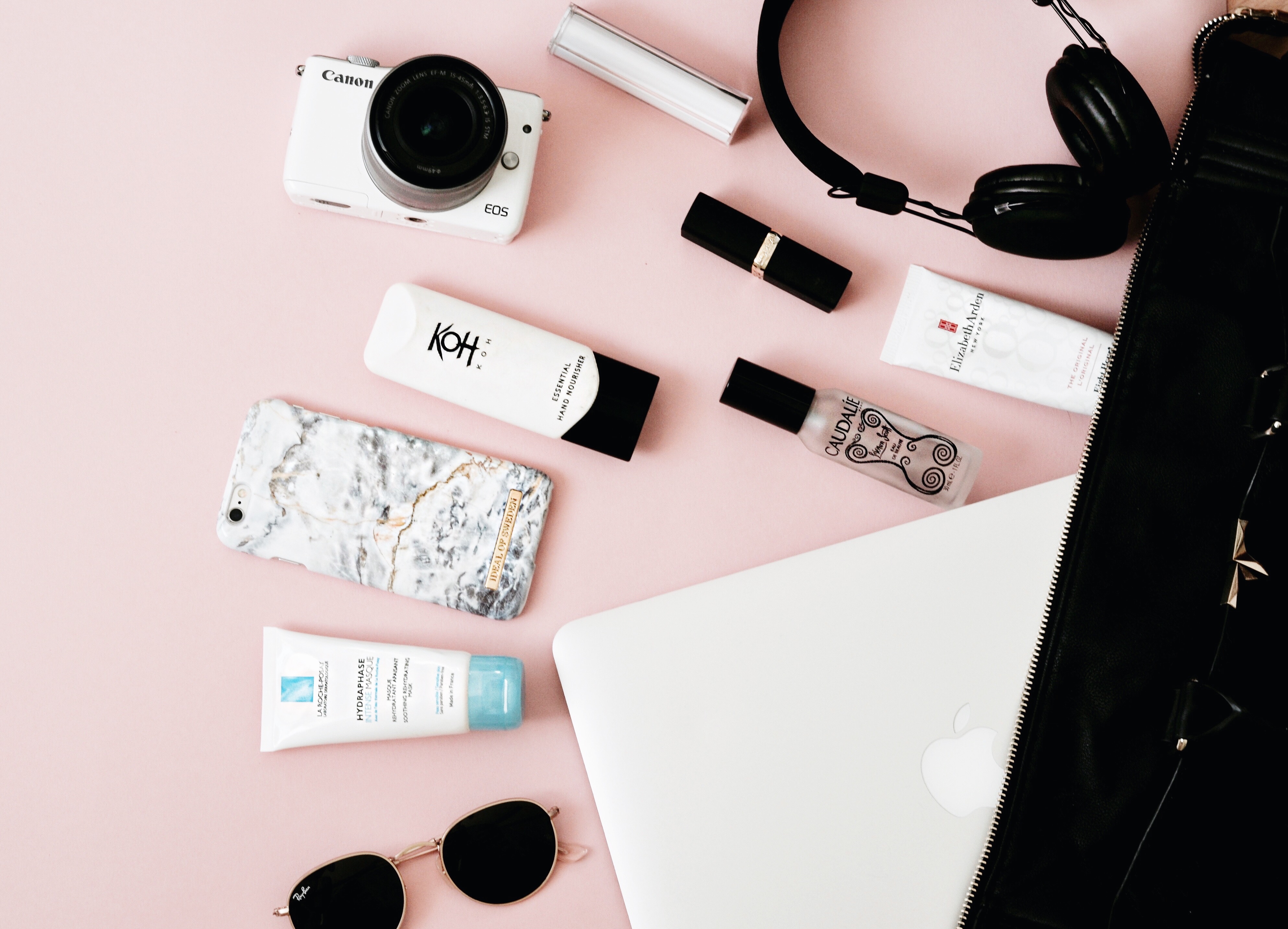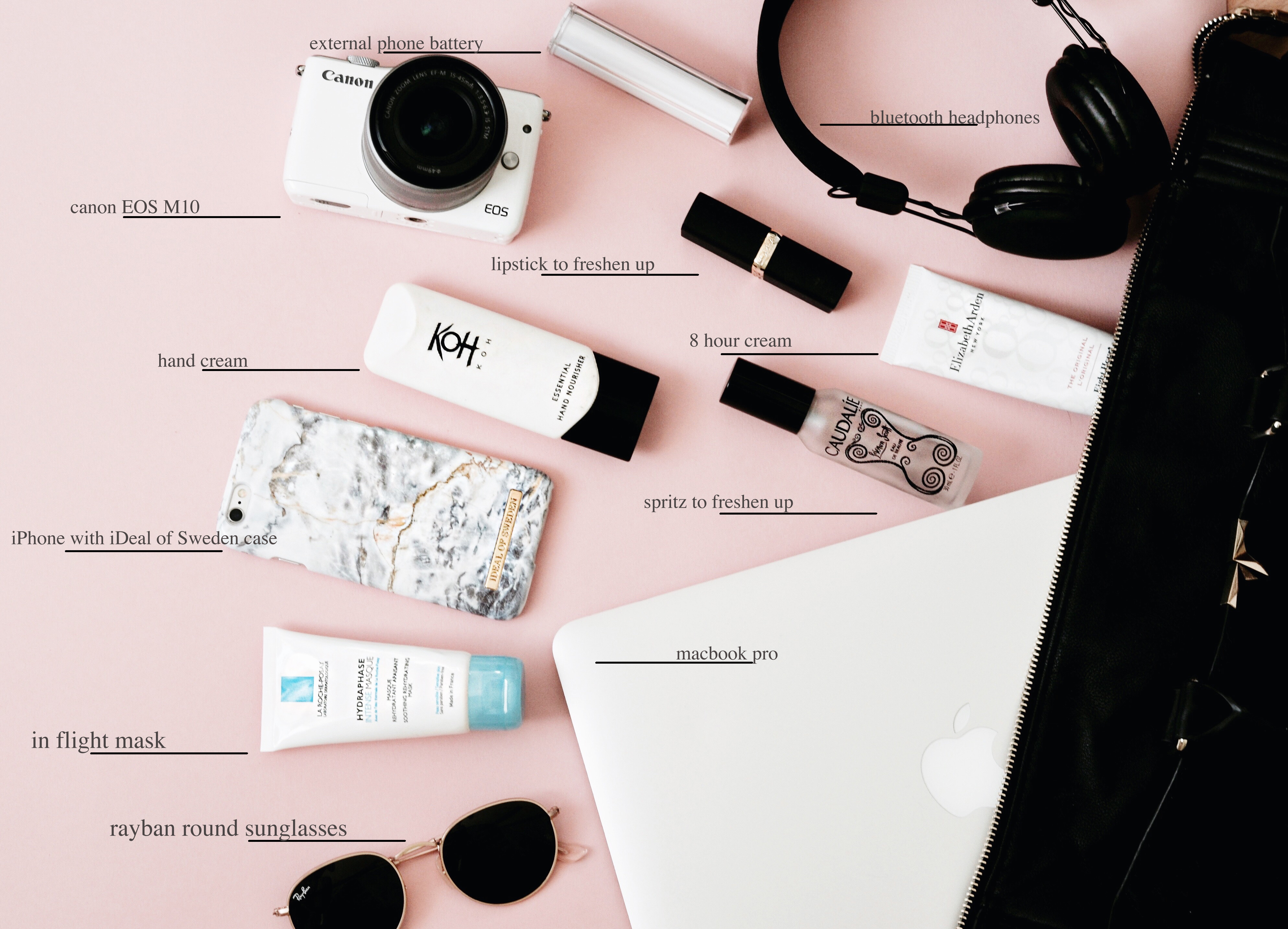 Airports are probably my favourite part of travelling. I adore the hustle and bustle of the busy places, everybody rushing to get somewhere. Every single emotion can be observed at an airport. Everybody there has somewhere to go, somewhere to be. I can't really explain it, but I absolutely love it. Although the tax free shopping might have something to do with it… I have a number of must have handbag travel essentials that always come with me. Let me tell you about them!
Click the little arrow on the picture above to see which item is which!
TECH TRAVEL ESSENTIALS
I'm a sucker for some nice technology, and I never travel anywhere without my phone. I currently use an iPhone 6S which has a gorgeous iDeal of Sweden case around it. This brand's collection is on point, and the quality of the cases is amazing. They protect your phone but don't make it feel to bulky. Plus doesn't that marble look totally insta-chic? iPhone batteries keep getting better, but they still leave something to be desired. Which is why I pack an external battery so I always have an extra charge for my phone while I am on the move.
Furthermore, whether it's a day trip or a week at a tropical destination, you can bet your bottom dollar I'll be taking my macbook. It's just such a handy powerhouse of a machine. The computer has a sleek and light design that fits into my larger carry on bags, which is just perfect.
I own a large DSLR camera with a beautiful lens that I will never ever get rid of. But admittedly that's not too handy for travelling. I invested in a small but powerful camera last year and ended up with the Canon EOS M10. This little camera has interchangeable lenses which can build you a high quality kit for just a fraction of the regular size.
Cue the Abba music..
Who can live without it, I ask in all honesty. What would life be? Without a song or a dance what are we? Of course I am talking about music.. Who can seriously live without it? I know I can't. To listen to music on the go I use the Urbanz Bluetooth headphones. I mean, I believe that everyone needs bluetooth headphones in their life. They give you such freedom to move around without the danger of getting caught on anything. The design of these headphones is sleek and minimal, just the way I like it. The charge time is relatively quick and it allows you to play music for up to ten hours.
BEAUTY ESSENTIALS
Planes do a number on us. The recycled air in the cabins of airplanes can seriously dry your skin out. I already suffer from dry/dehydrated skin, so I try my best to save it during flights. A nice hydrating face mask is my favourite. I like the La Roche Posay one pictured above, but the Origins Drink Up Overnight mask is also great.
My lips crack when I'm just thinking about flying, so packing the Elizabeth Arden 8 hour cream is a must. This stuff is also great to apply to your cuticles to give your nails a bit of a treat. For the rest of your hands any hand cream will do, but the one from KOH pictured up top smells so great I recommend it to all.
When you're stepping off the plane and are feeling a little meh, a nice herb infused face spritz can be delightful. This Caudalie Eau de Beauté is so refreshing and the scent is an instant mood booster. Whenever I'm looking a little worse for wear I spritz this on my skin and it freshens me right up.
I try to wear as little makeup as possible when traveling. But always keep a handy lippie around in case I want to freshen up on arrival. There is something about the combo of fluttery lashes and red lips that just makes me swoon. You can't tell in this photo, but this red has a beautiful brick tinge to it. It's classic, but with a modern twist. I love it!
Altogether that makes quite the list of travel essentials, doesn't it? These easily fit into my larger bags, the ones that I tend to take as carry on. Sometimes I feel like I'm still packing too much. I don't think I'll ever be one of those Scandinavian minimalism queens.
What are your must have travel essentials?
Want to see more posts like this? Why not check out the LIFESTYLE category!